Global Turbine Component Technologies is a leader in turbine component overhaul for commercial, military and general aviation aircraft. We have an international reputation for high quality, quick turn around and innovative repair development. We have developed numerous highly specialized and proprietary repairs such as vane, flange and cylinder replacements, specialized coatings and material restoration. GTCT is certificated by both the FAA and EASA. We are a Honeywell Authorized Component Repair Facility for T53 and T55 engine components. We also are certified to overhaul Rolls-Royce Allison and Pratt & Whitney Canada engine components.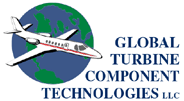 Founded: 1991.

Location: South Windsor, Connecticut.

Facility: 20,000 square feet.

Workforce: Operating on two shifts.

Certified Repairman: Fifteen.

Customers: More than 150 international customers including airlines, OEMs, engine overhaul and maintenance facilities and U.S. and foreign militaries.

Engines Serviced: We currently service over 600 components on the Honeywell T53, T55, AL5512, AGT 1500; the CFS Aeroproducts ALF 502 and LF 507; the Vector Aerospace TF40, TF50; the Rolls-Royce/Allison T56/501D; and, the Pratt & Whitney Canada PT6 series.
Edmund M. Autuori, President

Brian T. Fielding, Operations/Materials Manager

Thomas L. Fielding, Quality Manager

Richard Robitaille, Engineering Manager

Roger Dwyer, Production Manager

Carla Rodrigues, Controller

Telephone (860) 528-4722 • Facsimile (860) 528-0827
125 South Satellite Road
South Windsor, CT 06074
STATION # G1UR437Y